The Economist (maandincasso)
The Economist (maandincasso)
Klik voor een vergroting
| | | | |
| --- | --- | --- | --- |
| taal | frequentie | losse verkoop | vanaf |
| eng | 51x per jaar | € 7,50 per nr | € 4,21 per nr |

The Economist sets a different standard. As the next generation of opinion leaders, it's important you stay up-to-date on what's happening around the globe.
The Economist brings its readers a unique and independent perspective, covering every major development you need to know - as well as many things you never realised you needed to know. Plenty of news outlets deliver the 'what and where' of world events. The Economist gives you the 'why'. Each week, The Economist spans everything from European and world news, politics, business and finance, science, technology and the arts.
Available in digital-only or as a print and digital package, you have the opportunity to enjoy The Economist's stimulating debate, intelligent insight and genuine quality however you wish, whether you're at home, at university or travelling. And now digital subscriptions also include The Economist Espresso, our daily app for smartphones.
Go beyond the headlines, to get the bigger global picture!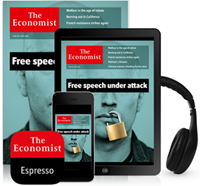 THE ECONOMIST MAANDINCASSO



LET OP:

De eerste 3 maanden voor € 34,00.
Voor een Digital-abonnement bedraagt het maandbedrag € 18,25 (€ 198,25 voor het eerste jaar)

Voor een Print&Digital-abonnement bedraagt het maandbedrag € 21,50 (€ 227,50 voor het eerste jaar)

De maandbedragen worden gedurende de looptijd van je abonnement automatisch van je rekening afgeschreven via een incassomachtiging. De initiële looptijd van een maandincasso-abonnement bedraagt 6 maanden en wordt daarna automatisch per maand verlengd. Na afloop van de initiële looptijd is het abonnement per maand opzegbaar.
| | | | | | |
| --- | --- | --- | --- | --- | --- |
| periode | basis prijs | korting | student | | |
| DIGITAL maandincasso (1e 13 wkn €34) | € 32,50 | € 14,25 | € 18,25 | Bestel! | |
| PR&DIG maandincasso (1e 13 wkn €34) | € 39,50 | € 18,00 | € 21,50 | Bestel! | |