The New York Times (Int ed.)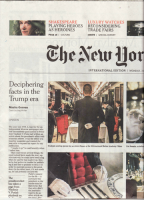 The New York Times (Int ed.)
Klik voor een vergroting
| | | | |
| --- | --- | --- | --- |
| taal | frequentie | losse verkoop | vanaf |
| eng | dagelijks | € 3,20 per nr | € 1,41 per nr |
More than ever, people are striving to understand a fast-changing world. With its balanced, intelligent perspective on what's going on in the world - in politics, business, culture and sports - the new-look INYT gives you the insights and analysis you need in one concise, easy-to-navigate daily read. Including unlimited access to NYTimes.com and the INYT apps for iPhone and Ipad!

Voorheen International Herald Tribune

NB: Helaas is het niet langer mogelijk in alle steden in Nederland deze krant op de dag van verschijnen te laten bezorgen. In onderstaande steden vindt de bezorging via de post plaats hetgeen een vol eetmaal vertraging oplevert. Het betreft de studiesteden: Apeldoorn, Deventer, Enschede, Hengelo, Almelo, Zwolle, Assen, Groningen en Leeuwarden.
| | | | | | | |
| --- | --- | --- | --- | --- | --- | --- |
| periode | basis prijs | korting | student | actie | | |
| 3 mnd | € 249,60 | € 119,60 | € 130,00 | € 110,00 | Bestel! | |