Maandincasso
Hoe werkt het?
Je betaalt je abonnementsgeld per maand. De betaling geschiedt via een periodieke incassomachtiging via je bank of giro. Als je je abonnement om welke reden dan ook wilt stopzetten of tijdelijk wilt onderbreken dan is een simpel telefoontje of mailtje naar ISS voldoende.
Op het moment dat er een wijziging plaatsvindt in het jaarlijkse abonnementstarief van een van de onderstaande titels, wordt het maandincassobedrag voor de betreffende titel automatisch aangepast.
Opiniebladen, betaal per maand, looptijd 1 jaar
De Groene
voor slechts € 10,00 per 4 weken.
Bespaar 70%, verschijnt 50x per jaar ...
bestel
Waarom zou iedereen De Groene Amsterdammer moeten lezen? Omdat De Groene een weekblad is waarvan je wijzer wordt! Wij weten het allemaal: de maatschappij gaat gebukt onder een voortwoekerende geestelijke verschraling. De Groene probeert daar op zijn eigen bescheiden manier iets aan te doen.

LET OP: onderstaande aanbieding is uitsluitend bestemd voor STUDENTEN, niet ouder dan 26 jaar, die in aanmerking komen voor studiefinanciering.
EW Weekblad
voor slechts € 12,00 per maand.
Bespaar 67%, verschijnt 50x per jaar ...
bestel
EW plaatst onderwerpen en ontwikkelingen die in de maatschappij aan de orde zijn in een context. Het weekblad schept orde in de informatiechaos. Maakt een selectie van onderwerpen die echt van belang zijn. Op het gebied van politiek, economie, wetenschap en cultuur. En schrijft daarover op een manier die je aan het denken zet.


Kranten, betaal per maand, looptijd 1 jaar
FD - Het Financieele Dagblad digitaal
voor slechts € 15,00 per maand.
Bespaar 82%, verschijnt dagelijks ...
bestel
Het FD is voor ambitieus en ondernemend Nederland de nieuws- en inspiratiebron. Dagelijks biedt het FD je zeer waardevolle inspiratie met relevante informatie over bedrijven, toepassing van technologieën, financiële analyses, carrièretips en nog veel meer. Het FD schrijft over actuele interessante gebeurtenissen op economisch, financieel en politiek gebied. Het FD inspireert met artikelen over succesvolle ondernemers. Het FD is modern, met voor elk platform een speciale versie: krant, website, iPad, iPhone, Android tablets.
Zeer nuttig voor je persoonlijke groei en meer concreet voor je scriptie, cases, kritische vragen en onderzoek. Abonneer je dus op Het FD Digitaal Studenten abonnement, nu een jaar lang, voor € 15 per maand: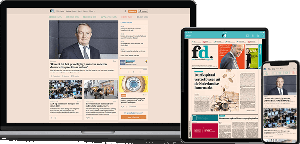 - Elke dag de krant digitaal op je pc, tablet of telefoon
- Toegang FD.nl + FD App
- Maandelijks opzegbaar, doorlopend abonnement

Voorwaarden studentenabonnement:
Je bent ingeschreven als student, bent uitwonend en niet ouder dan 26 jaar. Het FD Studentenabonnement is een jaarabonnement (€ 180), dat je per maand (€ 15) betaalt. De looptijd is 1 jaar, daarna is het abonnement maandelijks op te zeggen. Je komt niet langer meer in aanmerking voor het studententarief na beëindiging van je studie of aan het eind van het kwartaal waarin je 27 wordt.
Helaas kan dit abonnement niet cadeau worden gegeven.